Hi,
I am brand new to the framing world, and had a sure belief that there should not be many problems in a 90 degree joint. however, I have had some issues that I think stem from my underpinnings. The corners of the frame can be assembled perfectly on a table, but when I put a clip in, I see a small gap, the same length as the clip is, if I slide the clip in from the front of the frame, then the problem is moved to the front of the frame , and therefore I do not think it is due to the cut of the frame.
as I said, I am brand new to this world and all the help, tips and anything else I can get will be greatly appreciated.
my underpinner is an AMP U-400. I use the original "power twist" clips, I have "soft" and "medium" clips, and I have generally only done tests with soft, since my frames are soft, I have 6,5 bar into the machine, from the compressor system, and I have set the machine to anything between 2 and 6,5 bar during different tests, but I did not think there are any regularities in the joints. my current frame size is 15mm wide and 20-25mm high.
thanks in advance.
from a new frame maker.
The hammer - should it come this far up?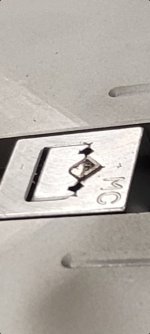 The cut before joining
Some test frames
Backside of the frame